LPG Coffee Machine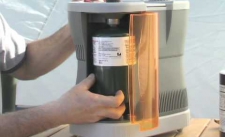 LPG coffee machines are the ideal solution for preparing coffee wherever there is no (or insufficient) power supply.
Having the option to use LPG or electricity provides unrivaled versatility and mobility. LPG coffee machines are ideal for mobile catering units and 'espresso on the go'.
They can be seen at street markets, outdoor events, camp sites, hunting locations etc., they are easy-to-use and in their small sizes also portable, delivering hot coffee and hot water for other beverages at an instant.
---
Manufactures
---
View All Manufacturers