Rubens Tube, Flame Bars, Pyro Boards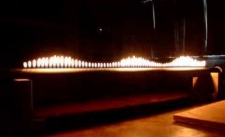 Ruben's tube graphically shows the relationship between sound waves and sound pressure, like a primitive oscilloscope. Today it is only used occasionally, as a demonstration in physics education.
A length of pipe is perforated along the top and sealed at both ends - one seal is attached to a small speaker or frequency generator, the other to a supply of a flammable gas (propane tank). The pipe is filled with the gas, and the gas leaking from the perforations is lit. If a suitable constant frequency is used, a standing wave can form within the tube. When the speaker is turned on, the standing wave will create points with oscillating (higher and lower) pressure and points with constant pressure (pressure nodes) along the tube. Where there is oscillating pressure due to the sound waves, less gas will escape from the perforations in the tube, and the flames will be lower at those points. At the pressure nodes, the flames are higher. At the end of the tube gas molecule velocity is zero and oscillating pressure is maximal, thus low flames are observed. It is possible to determine the wavelength from the flame minimum and maximum by simply measuring with a ruler.
---
Manufactures
---
View All Manufacturers