Water Heaters (Tanked)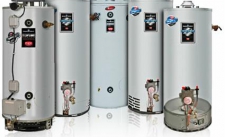 LPG/Propane tank water heaters are increasingly becoming the chosen type of water heater for a number of reasons. They provide comfort, versatility, convenience, and efficiency by supplying high volumes of hot water with compact and highly innovative technology.
LPG/Propane water heaters have made great advances in design and technology to become the preferred water heating choice for consumers either outside natural gas service areas, or consumers who prefer an affordable and eco-friendly solution for water heating.
Tank-type water heaters use a large internal container (tank) to hold the heated water prior to use. With LPG/Propane tanked water heaters, heating water to a temperature set by the user via a thermostat becomes easy. The temperature in a standard tank-type water heater is kept at a constant temperature regardless of hot water demand and use. However, compared to most other fuels, LPG/Propane is still a more cost effective water heating solution.
---
Manufactures
---
View All Manufacturers